Want to tremendously increase the value of your home? Start with the base of it all: the floor design for home.
Flooring upgrades are quite an investment, but the end product makes it all worth it — an amazing upgrade to the ambiance of your interior, an attractive element for buyers, and a massive boost to resale values.
However, the many different options available in the market make it overwhelming to choose the best one. In that regard, we've done the work for you and shortlisted fantastic flooring upgrades that have proven to increase property values. Dig right in!
Engineered Hardwood Flooring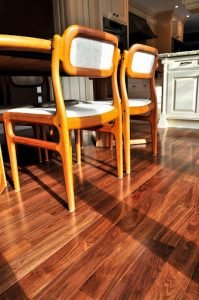 Engineered hardwood is an excellent floor design for a home to upgrade if you're willing to invest some bucks. Instead of a single, solid piece of wood, engineered hardwood is made from different layers joined together. This makes it very strong and durable, contributing to its high price. 
The fact that it lasts many years without any wear and tear means it is very low maintenance. What's more, the floor will look brand new when you decide to tell your house, even if it is many years down the lane.  This will also contribute to a higher resale value.
Solid Hardwood Flooring
Another fantastic floor design for home upgrade that is sure to provide you a bang for your buck is solid hardwood flooring. This type gives a very classic and traditional look, and adapts to almost every interior design theme. 
Like engineered hardwood, solid hardwood is exceptionally sturdy, durable, and long-lasting. Additionally, it has a steady appearance, and its color doesn't fade. If you ever wish to change the floor's color, you can simply refinish the floor instead of replacing it. 
Choosing between solid and engineered hardwood depends mostly on personal preference, as both of them feature excellent qualities.
Laminate Flooring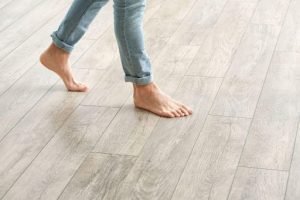 If hardwood floor design for a home sounds like something that will break your bank, you can opt for laminate flooring. This mimics the former, creating a very elegant, wood-like interior at a reasonable cost. 
Laminate flooring is made using fiberboard material and melamine resin. It may also comprise several other materials, such as bamboo and linoleum. It has many different layers, with the top layer resembling the look of real wood — the secret behind its timeless charm!
Laminate flooring can withstand staining and scratching, making it ideal for folks with children and pets. However, be sure to remember that it may not last as long as hardwood, so you might need to replace it after a couple of years.
Waterproof Flooring
Waterproof flooring is the ultimate combination of practicality and aesthetics. It is super easy to wipe and clean in case something gets spilled on it. This floor design for home makes it ideal for homes where children are around, and for areas that have lots of moisture, such as the kitchen and laundry room.
The best part is that waterproof flooring is available in a range of budgets, so you can tailor the purchase to your requirements. It attracts homeowners and increases home resale values because it is low-maintenance and durable — the combination potential buyers are on the hunt for.
The best-case scenario, however, would be opting for a hardwood floor with a waterproof coating.
Tile and Vinyl Plank Flooring
Tile flooring and vinyl plank flooring are both great options if you're looking for high durability without creating a hole in your pocket. They are also super easy to care for and can be wiped clean in the event of a spillage. Plus, they're both inhospitable to dust and germs!
However, tiles may scratch easily, meaning they might need replacement every once in a while. There are also more chances for cracks as compared to the other types of flooring listed above. 
Tile and vinyl plank floors both have great resistance to moisture and incredible designs, which help increase the value of the homes they are used in. 
Conclusion
It is becoming essential to enhance your property and home as the real estate market becomes more competitive. Undeniably, one great way to do so is by increasing the value of your home by upgrading its flooring. I hope these floor design for home will help you
In a nutshell, engineered hardwood and solid hardwood floors take the prize, but they're expensive options. Next, come laminate and waterproof flooring, both of which add tremendous value to your home while increasing its value. Finally, tiles and vinyl plank floors are also a good option but may need replacement once in a while.
READ NEXT: How to Choose a Carpet Color That Matches Your Room's Walls
RELATED TOPICS: Flooring design